A microchip is a small, electronic chip enclosed in a glass cylinder that is about the same size as a grain of rice. The microchip itself does not have a battery—it is activated by a scanner that is passed over the area, and the radiowaves put out by the scanner activate the chip. The chip transmits the identification number to the scanner, which displays the number on the screen.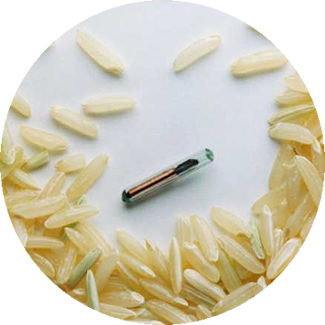 It is injected under the skin using a hypodermic needle. It is no more painful than a typical injection, although the needle is slightly larger than those used for injection. No surgery or anesthesia is required—a microchip can be implanted during a routine veterinary office visit. If your pet is already under anesthesia for a procedure, such as neutering or spaying, the microchip can often be implanted while they're still under anesthesia.
The microchips presently used in pets only contain identification numbers. The microchip is not a GPS device and cannot track your animal if it gets lost.
When an animal is found and taken to a shelter or veterinary clinic, one of the first things they do is scan the animal for a microchip. If they find a microchip, and if the microchip registry has accurate information, they can quickly find the animal's owner.
Microchips are great for permanent identification that is tamper-proof, but nothing replaces a collar with up-to-date identification tags. If a pet is wearing a collar with tags when it's lost, it's often a very quick process to read the tag and contact the owner; however, the information on the tags needs to be accurate and up-to-date. But if a pet is not wearing a collar and tags, or if the collar is lost or removed, then the presence of a microchip might be the only way the pet's owner can be found.
Once your pet is microchipped, there are only three things you need to do: 1) make sure the microchip is registered; 2) ask your veterinarian to scan your pet's microchip at least once per year to make sure the microchip is still functioning and can be detected; and 3) keep your registration information up-to-date.
If you've moved, or if any of your information (especially your phone number) has changed, make sure you update your microchip registration in the manufacturer's database as soon as possible.